Sanitary Level Indicators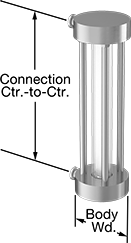 Mount these indicators on the outside of tanks in food, pharmaceutical, and other sanitary environments to monitor their liquid levels. Made from 316 stainless steel, they will not corrode from frequent washdowns with harsh cleaners and sanitizers. Rounded edges and polished surfaces prevent the risk of bacteria growth. These indicators have an impact-resistant polycarbonate shield that protects the glass window while still letting you see the liquid level. The liquid level inside these indicators matches the level in your tank, making it easy to view readings at a glance. Attach these indicators to tanks with quick-clamp sanitary fittings for fast installation and easy removal for cleaning or moving them.
For technical drawings and 3-D models, click on a part number.
Connection


Center-to-Center

Overall
Height
Window
Height
Body
Width
Maximum
Pressure
Maximum
Vacuum @
Temperature
Minimum
Maximum
Fitting
Material
Material
Shield
Material
Interior
Exterior
Each

316 Stainless Steel

12"
13

1/4

"
10

3/4

"
4"
150 psi @ 72° F
29 in. of Hg @ 72° F
35°
350°
316 Stainless Steel
Glass
Polycarbonate Plastic
20
42
00000000
000000000
14"
15

1/4

"
12

3/4

"
4"
150 psi @ 72° F
29 in. of Hg @ 72° F
35°
350°
316 Stainless Steel
Glass
Polycarbonate Plastic
20
42
00000000
00000000
18"
19

1/4

"
16

3/4

"
4"
150 psi @ 72° F
29 in. of Hg @ 72° F
35°
350°
316 Stainless Steel
Glass
Polycarbonate Plastic
20
42
00000000
00000000
20"
21

1/4

"
18

3/4

"
4"
150 psi @ 72° F
29 in. of Hg @ 72° F
35°
350°
316 Stainless Steel
Glass
Polycarbonate Plastic
20
42
00000000
00000000
24"
25

1/4

"
22

3/4

"
4"
150 psi @ 72° F
29 in. of Hg @ 72° F
35°
350°
316 Stainless Steel
Glass
Polycarbonate Plastic
20
42
00000000
00000000
26"
27

1/4

"
24

3/4

"
4"
150 psi @ 72° F
29 in. of Hg @ 72° F
35°
350°
316 Stainless Steel
Glass
Polycarbonate Plastic
20
42
00000000
00000000
32"
33

1/4

"
30

3/4

"
4"
150 psi @ 72° F
29 in. of Hg @ 72° F
35°
350°
316 Stainless Steel
Glass
Polycarbonate Plastic
20
42
00000000
00000000
38"
39

1/4

"
36

3/4

"
4"
150 psi @ 72° F
29 in. of Hg @ 72° F
35°
350°
316 Stainless Steel
Glass
Polycarbonate Plastic
20
42
00000000
00000000
44"
45

1/4

"
42

3/4

"
4"
150 psi @ 72° F
29 in. of Hg @ 72° F
35°
350°
316 Stainless Steel
Glass
Polycarbonate Plastic
20
42
00000000
00000000
50"
51

1/4

"
48

3/4

"
4"
150 psi @ 72° F
29 in. of Hg @ 72° F
35°
350°
316 Stainless Steel
Glass
Polycarbonate Plastic
20
42
00000000
00000000