T-Slotted

Framing Machine Guards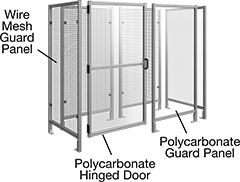 Framed in aluminum T-slotted extrusions, these customizable machine guards provide multiple points of attachment for other components and structures.
Doors have a magnetic latch. They can be mounted to swing open to the left or right.
For technical drawings and 3-D models, click on a part number.

Solid

Overall


Wd.

No.

of
Posts
Floor Clearance
When Assembled
Material


Thick.

Ht.

Wd.

T-Slot




Wd.

Mounting
Hardware
Each
Each
1'6"
2
6"

1/4

"
1

1/2

"
1

1/2

"
0.320"
Connecting Fasteners Included
0000000
0000000
0000000
0000000
2'0"
2
6"

1/4

"
1

1/2

"
1

1/2

"
0.320"
Connecting Fasteners Included
0000000
000000
0000000
000000
2'6"
2
6"

1/4

"
1

1/2

"
1

1/2

"
0.320"
Connecting Fasteners Included
0000000
000000
0000000
000000
3'0"
2
6"

1/4

"
1

1/2

"
1

1/2

"
0.320"
Connecting Fasteners Included
0000000
000000
0000000
000000
3'6"
2
6"

1/4

"
1

1/2

"
1

1/2

"
0.320"
Connecting Fasteners Included
00000000
000000
00000000
000000
4'0"
2
6"

1/4

"
1

1/2

"
1

1/2

"
0.320"
Connecting Fasteners Included
00000000
000000
00000000
000000

Solid

Wd.

Floor Clearance
When Assembled
Material


Thick.

Ht.

Wd.

T-Slot




Wd.

Mounting Hardware
Each
3'0"
6"

1/4

"
1

1/2

"
1

1/2

"
0.320"
Connecting Fasteners Included
0000000
0000000
4'0"
6"

1/4

"
1

1/2

"
1

1/2

"
0.320"
Connecting Fasteners Included
0000000
000000
3'0"
6"

1/4

"
1

1/2

"
1

1/2

"
0.320"
Connecting Fasteners Included
0000000
000000
4'0"
6"

1/4

"
1

1/2

"
1

1/2

"
0.320"
Connecting Fasteners Included
0000000
000000