Specifications Met

Specifications Met
Show
Specifications Met

Specifications Met
Hide
Warning: Products have one, but not necessarily all, of the selected characteristics.
For Heat Exposure Type

For Heat Exposure Type
DFARS (Defense Acquisition Regulations Supplement)

DFARS

(Defense

Acquisition
Regulations

Supplement)
Maximum Temperature

Maximum Temperature
Firefighter-Style

Leather

Heat-Protection

Gloves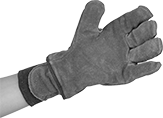 Cowhide Leather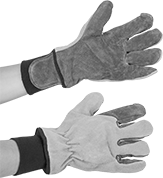 Cowhide and Pigskin Leather
Used in firefighting and similar severe duty applications, these fire-retardant gloves meet OSHA, CAL-OSHA, and NFPA requirements. Flexible and durable, they protect your hands in high-temperature applications. Holding heavy objects may decrease temperature rating.
Cowhide gloves remain soft after repeated soakings.
Cowhide and pigskin gloves have cowhide on the back of the glove and pigskin on the palm. Pigskin is more abrasion resistant than cowhide.
Lg.

Cuff
Style
Color

Max.




Temp.

For Heat
Exposure
Type
Features
Specifications
Met
Choose
a
Size
Pair

Cowhide Leather

13"
Knit
Blue
Not Rated
Direct
Nomex Cuff
OSHA Compliant 29 CFR 1910.156; Cal/OSHA Compliant Title 8 Section 3407; NFPA 1971
000000
000000

Cowhide and Pigskin Leather

13"
Knit
Beige/Gray
Not Rated
Direct
Nomex Cuff
OSHA Compliant 29 CFR 1910.156; Cal/OSHA Compliant Title 8 Section 3407; NFPA 1971
000000
00000