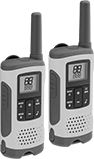 Also known as walkie talkies, these radios work best at short distances in areas with little to no obstructions. They operate on FRS (Family Radio Service) and GMRS (General Mobile Radio Service) frequencies and require an FCC license, but won't work on FCC designated business frequencies and are not intended for commercial business use. A frequency is the discrete setting on which a radio's transmission is carried; radios must operate on the same frequency to communicate with each other. They cannot be sold outside of the United States due to product registration requirements.
Channels allow you to put different groups of users on an assigned frequency so they can operate within the same area without talking over each other. Change channels with the press of a button.
Optional speaker/microphone lets you use your radio without unclipping it from your belt.
FRS


Power,


W
GMRS


Power,


W

No.


of
Channels

Ht.

Wd.

Dp.

Material
Display
Charging


Time,




hrs.

Batteries
Included
Includes
Features
Cannot
Be
Sold To

Pkg.

0.5
1
22
6

3/8

"
2

1/2

"
1

1/4

"
Plastic
LCD
12
Yes
Charger, Two Belt Clips
Battery Life Indicator
Outside United States
0000000
000000