DFARS (Defense Acquisition Regulations Supplement)

DFARS

(Defense

Acquisition
Regulations

Supplement)
Operating System Compatibility

Operating System
Compatibility
Handheld GPS Navigators
Navigate on foot with real-time GPS data. These handheld navigators access multiple Global Navigation Satellite Systems (GNSS) for accurate positioning even in remote locations and challenging environments such as dense forests. Use them to guide yourself to your destination, track and save up to 5,000 coordinates, and calculate the area of a location by walking its perimeter. They're preloaded with topographic maps that include terrain contours, elevations, and bodies of water. Navigators have a color display, so it's easy to read map details. Built for outdoor use, they stand up to splashes, rain, and snow.
To receive email, text, and call notifications on these navigators, link them to your smartphone via Bluetooth. Connect them to a computer with the included USB cable to upload additional maps or offload data and files. For extra storage, insert a memory card.
Use holders to secure navigators for hands-free use. Freestanding holders stay in place against dashboards using friction, and are easily moved from one vehicle to another. Mount screw-on holders to any flat surface for permanent installation.
Belt clips keep navigators within reach when you're on the move. Swivel belt clips are adjustable for comfort.

Handheld GPS Navigator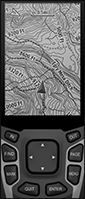 Digital Display
Image
Resolution
Length
Height
Operating
System
Compatibility
Operating
Temperature


Range,

°F

Batteries
Included
Number of
Batteries
Required
Battery
Size
Height
Width
Depth
Environmental
Rating
Includes
Each

Plastic Housing

With Bluetooth Connectivity and USB

Mini-B

Connection Type

160 x 240
1

1/2

"
2

1/4

"
Android 4.2 or Later; iOS 6 or Later
-4° to 120°
No
2
AA
6

1/4

"
2

1/2

"
1

1/2

"
IP07
Carabiner; USB Cable
00000000
0000000