Self-Piercing

Fabric Grommets
The sharp neck on these grommets cuts the material as you press them into place, eliminating the need for a cutting punch. They strengthen and prevent holes from fraying in tarps, covers, and curtains. They also provide a way to run rope and cable through your material. To install, use a die set and bench-mount manual press (both sold separately). Grommets with grommet trade size 0, 1, and 2 require a die set adapter for installation. Grommet trade size refers to the grommet's hole size once set. Made of brass, all of these grommets are strong and have good corrosion resistance.
Grommets with a tooth lock washer, also known as a spur washer, have an elongated neck and teeth for extra reinforcement so you can use these grommets in thick materials such as canvas. They also have a rolled rim, which provides added grip.
For technical drawings and 3-D models, click on a part number.
Grommets with Standard Washer

With Standard Washer
Grommet
Trade Size
For

Max.


Material

Thick.

ID


(C)

Flange


Dia.

(D)

Dp.

Under
Flange

(F)

For Use
Outdoors

Pkg.




Qty.

Pkg.

Brass

0
0.091"

1/4

"
0.562"
0.154"
No
50
0000000
00000
1
0.091"

5/16

"
0.625"
0.154"
No
50
0000000
00000
2
0.091"

3/8

"
0.75"
0.154"
No
50
0000000
00000
3
0.091"

7/16

"
0.938"
0.154"
No
25
0000000
0000
4
0.091"

5/8

"
1.125"
0.154"
No
25
0000000
00000
Grommets with Tooth Lock Washer
Bench-Mount Manual Presses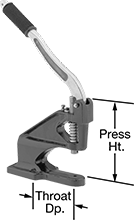 Throat


Dp.

Press


Ht.

Frame
Material
Ram
Material
Mounting
Fasteners Included
Each
4

3/4

"
8"
Iron
Steel
No
000000000
0000000

For Grommet
Trade Size
0,
1,
and 2 Grommets
with Standard Washer

For Grommet
Trade Size 3 and 4
Grommets with Standard Washer
and Grommets with Tooth Lock Washer