Two-Piece

Press-Fit

Rivets for Leather and Fabric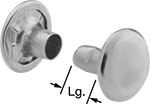 Installed
Also known as slam rivets, the two heads provide a finished look on both sides of your material. Use a hammer or press to join the mating parts. Access to both sides of the material is required.
Stainless steel rivets are more corrosion resistant than nickel-plated steel and nickel-plated brass rivets.
For technical drawings and 3-D models, click on a part number.
Dia.

For Material


Thick.

Lg.

For Hole
Size
For Drill
Bit Size
Head


Dia.

Head


Ht.

Pkg.




Qty.

Pkg.

0.13"
0.188"-0.219"
0.341"
0.157"
No. 22
0.5"
0.09"
50
000000000
00000
0.134"
0.177"-0.25"
0.24"
0.094"

3/32

"
0.375"
0.09"
100
000000000
0000
0.134"
0.025"-0.25"
0.297"
0.15"

1/8

"
0.275"
0.06"
50
000000000
00000
0.15"
0.06"-0.19"
0.33"
0.15"

1/8

"
0.38"
0.09"
50
000000000
0000

Stainless Steel

0.15"
0.138"-0.197"
0.275"
0.15"

1/8

"
0.52"
0.12"
25
000000000
0000