Face Material

Face Material
Head Weight

Head Weight
Show
Head Material

Head Material
Handle Material

Handle Material
DFARS (Defense Acquisition Regulations Supplement)

DFARS

(Defense

Acquisition

Regulations

Supplement)
Faces Replaceable

Faces Replaceable
Handle Replaceable

Handle Replaceable
Overall Length

Overall Length
Mallets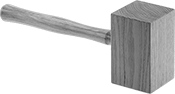 E
Drive chisels and strike work without damaging its surface. To avoid marring, choose a mallet with faces that are softer than your workpiece. Lighter weight mallets are good for tapping work into place and driving a chisel to make small cuts. Use heavier weight mallets when assembling joints, dislodging stuck parts, and making aggressive cuts with a chisel. Longer mallets allow for more powerful swings.
Hickory faces are a good choice for light sheet metal work and striking wood.
Hickory handles resist vibration.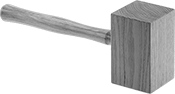 E
Head

Wt.

Face


Lg.

Face


Wd.

Overall


Lg.

Grip
Style
Handle
Replaceable
Each

Hickory Handle

E
2

1/8

lbs.
3

1/2

"
3

1/2

"
15"
Plain
Nonreplaceable
0000000
000000