Masonry Hammers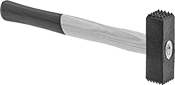 Plain Grip with
Serrated-Face
Chisel Head
Pry, shape, chip, and cut masonry and stone. For replacement handles, see Hickory Hammer Handles.
Serrated-face chisel-head hammers are also known as bushing hammers. The points on the face are good for adding texture to the workpiece in preparation for using a bonding agent. They can also be used to remove thin surface coatings from masonry and concrete.
Hickory and ash handles resist vibration.
Head


Wt.,

lbs.

Face


Lg.

Face


Wd.

Blade


Wd.

Face
Material
Overall


Lg.

Handle
Replaceable
Each

Plain Grip with

Serrated-Face

Chisel Head

Ash Handle

2

3/16

1

5/8

"
1

5/8

"

3/16

"
Steel
14

1/4

"
Replaceable
0000000
0000000