Antibacterial Moisturizers
Sanitize and hydrate your hands at the same time—these moisturizers kill up to 99.99% of germs and bacteria on contact. With shea butter and aloe vera to prevent dryness and irritation, they're often used by workers who wear latex or rubber gloves. They also contain antioxidants and vitamins to help nourish and replenish skin. To avoid irritating sensitive skin, these moisturizers are fragrance and paraben free. They're also alcohol free—unlike traditional hand sanitizers—so they won't strip natural moisture off of your hands. These moisturizers cannot be sold to regions outside the United States due to product registration requirements.
Antistatic Moisturizers

Pump Bottle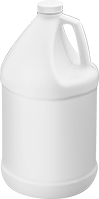 Pour Bottle
Prevent static buildup and improve contact with grounding devices such as wrist and heel straps. Made with aloe and vitamins A and E, it conditions your skin without a greasy residue. Product regulations restrict sales to the listed jurisdictions/areas.
Gojo Moisturizer Cartridges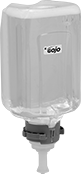 This fragrance-free moisturizer nourishes skin without a greasy residue. Drop this cartridge into the Gojo dispenser (sold separately) for convenient, no-mess dispensing.