Dispensers for Purell Hand Sanitizer Cartridges
These dispensers help you comply with ADA when properly installed.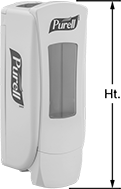 B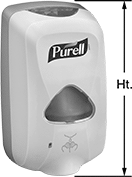 C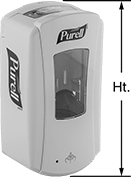 D
For
Sanitizer
Form

Cap.

Ht.

Wd.

Dp.

Material
Color
Included
Size

No.


of
Required

Mount.


Location
Mount
Type
Features
Each

Push Activated

B
Liquid, Foam
40 oz./1,200 ml
12"
4

3/4

"
4"
Plastic
White
__
__
__
Wall
Adhesive Back
Key-Locking Cover
00000000
000000

Touch Free

C
Liquid, Foam
40 oz./1,200 ml
10

1/2

"
6"
4"
Plastic
White
No
C
3
Wall
Adhesive Back
Key-Locking Cover
00000000
00000
D
Liquid, Foam
40 oz./1,200 ml
10

3/4

"
5

3/4

"
4"
Plastic
White
No
D
4
Wall
Adhesive Back
Key-Locking Cover
00000000
00000
Purell Hand Sanitizer Cartridges
Stands for Hand Sanitizer Dispensers
Mount hand sanitizer and wipe dispensers near your facility's entrance to help people follow good sanitizing practices and limit the spread of illness. These stands go wherever they're most convenient. All have a drip tray to protect tables and floors, as well as a square base to keep them from tipping over. Hand sanitizer dispensers and wipes are not included.
Stands for push-activated and touch-free dispensers have mounting holes to attach dispensers. Stands with 4 or 5 mounting holes also have a smooth back plate for securing dispensers with adhesive if their mounting holes don't line up.
Stands for sanitizer wipes hold standard-size wipe containers.
Aluminum and steel stands are more durable than plastic stands.
Stands with felt pads prevent scratches to tabletops and floors.
Display signs in stands that have a frame. They catch people's attention from a distance, so they know where to go to sanitize their hands.
Dispensers for Bulk Hand Sanitizer
Distribute hand sanitizer with these refillable dispensers. Instead of using a button, they dispense a drop of sanitizer when the battery-powered sensor detects motion, limiting the spread of germs between users.
Wall-mount dispensers have a manual dispensing button for when their batteries run out. A signal light flashes when batteries are running low, letting you know it's time to replace them. The amount of sanitizer they dispense is adjustable during initial setup and maintenance. These dispensers comply with ADA regulations when properly installed.
Place freestanding dispensers on any flat surface, no mounting or installation required. Put your hands close to the sensor for a small amount of sanitizer, or farther away for a larger amount. These dispensers have a rechargeable battery and come with a charger. Made of corrosion-resistant stainless steel, they're more durable than plastic dispensers and won't rust in wet environments. They're rated IP67 as protected from dust—even in areas with continuous airflow—as well as high-pressure jets of water from washdowns and submersion in up to a meter of water for 30 minutes.