Disposable Hats and Hairnets

Mesh
Keep your hair out of the way to prevent stray hairs from contaminating food.
Bouffant-style hats and hairnets cover your entire head. For short- to medium-length hair, use those with a 20" to 21" stretched diameter; for longer or thicker hair, choose a 24" stretched diameter.
Polyester fabric is lightweight mesh, which provides excellent breathability for all day wear.
Welding Face Masks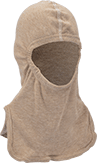 PBI
These face masks are double-layered to protect your head from radiant heat, flames, and welding sparks. They are designed to meet NFPA 1971 standards for structural firefighting.
PBI is lightweight and provides better wear- and heat-resistance than Nomex.
Material
Specifications
Met
Color
Size
Each
PBI Fabric
NFPA 1971
Brown
One Size
00000000
000000