About
Flame-Resistant

Arc-Rated

Personal Protection
Clean Room Hoods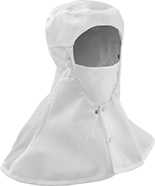 Covered Face
Designed to meet clean room standards, these hoods act as a barrier between the worker and the room to prevent pollutants, such as dust particles and microbes, from contaminating a space.
Lower clean room classes have fewer and smaller contaminants.
Polyester greatly outlasts Tyvek polyethylene. It withstands liquid splashes and abrasion and is reusable when laundered to clean room standards—lasts for up to 100 washes. Must be laundered prior to first use.
Environmental
Rating
Hood
Style
Material
Closure
Type
Features
Color
Size
Each
Fed. Std. Class 1,000, ISO Class 6
Covered Face
Polyester Fabric
Snaps
Detachable Face Cover
White
2XL
0000000
000000
Arc-Flash-Protection

Equipment Kits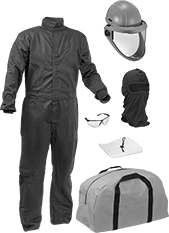 B
For protection from low-level arc flash hazards, these kits include several of the necessary safety items in a storage bag. All contents meet NFPA 70E standards for protection against electrical arc flashes for personal protection equipment (PPE) category 2. Check the PPE category and minimum arc rating provided for your workplace, and then select all required clothing and personal protective equipment to meet the minimum arc rating. Arc rating measures a garment's ability to insulate the wearer from burns; the higher the arc rating, the greater the flame resistance. All hard hats have a ratchet adjustment with an easy-turn knob.
Style B kits come with coveralls, hard hat, face shield, hood, safety glasses, and two storage bags.When measuring chest size, measure around the fullest part of your chest. Take all measurements over any clothing you expect to wear under the coveralls.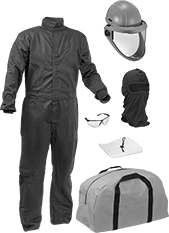 B
Arc
Rating, cal/cm2
Arc Rated
PPE
Category

No.

of
Suspension
Points
Material
Hat
Size
Lens
Material
Lens


Ht.

Lens


Wd.

Lens


Thick.

Material
Size


(Chest Size)

Each
8
2
4
Polyethylene Plastic
6

1/2

-8
Polycarbonate Plastic
10"
11

1/2

"
0.06"
Cotton/Nylon Fabric Blend
2XL (56")
000000
0000000
12
2
4
Polyethylene Plastic
6

1/2

-8
Polycarbonate Plastic
10"
11

1/2

"
0.06"
Cotton/Nylon Fabric Blend
2XL (56")
000000
000000