Hazardous Location Electric Chain Hoists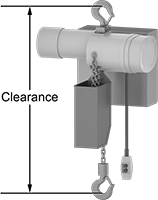 These hoists are rated for environments where hazardous material is present. Use the handheld control to effortlessly lift your load. The electromagnetic brake provides quick, secure braking and works when there is no power. Overload protection prevents the hoist from operating if the load exceeds capacity. Thermal motor protection prevents overheating. The power cord does not include a plug (view our offering of plugs).
Electrical components are protectected by a stainless steel NEMA 4x enclosure. Relays are intrinsically safe. Handheld controller is rated NEMA 4 and NEMA 12.
Hazardous location environmental ratings indicate whether manufacturers have included safety features in products to facilitate their safe use in a hazardous environment. Before selecting a product for a hazardous location, ensure it is rated for your environment. See About Hazardous Location Environmental Ratings.
For replacement parts, see Replacement Parts for Electric Chain Hoists.
Warning: Never use to lift people or items over people.
tons

lbs.

Lift


Lg.,




ft.

Lifting


Speed,


fpm
Clearance
Hook
Opening


Wd.

Voltage
Electrical
Connection
Type
Body
Material
Features
Environmental
Rating
Specifications
Met
Each

30-Min.

Max Continuous Run

(50%

Lifting/Lowering,

50%

Rest)

CM Budgit Man Guard

1
2,000
15
8
21"
1

1/4

"
460V AC
Hardwire
Stainless Steel
Chain Container
Overload Protection
Thermal Motor Protection
NEC Class II Division 2 Groups F, G
NEMA 4
NEMA 4X
NEMA 12

ASME B30.16; ASME HST-1; C-ETL Listed; CSA B167
000000
0000000000
Replacement Parts for Electric Chain Hoists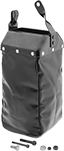 Chain Container
Minimize your downtime—original manufacturer parts keep your hoist in operation.
Also Available: Other CM Budgit Man Guard replacement parts such as brake components. Please select 3319T999 and specify serial number, manufacturer part number, hoist capacity, and voltage.
Component
For Capacity

(Lifting Speed)

For Lift


Length,

ft.

Chain Container
Material
Each
Chain Container
1 tons/2,000 lbs. (8 fpm)
15
Stainless Steel
000000
0000000