About Hazardous Location Environmental Ratings
Ultrasonic Hazardous Location
Painted-Surface

Thickness Gauges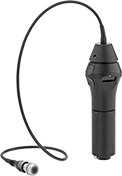 Rated for environments where hazardous material is present, these gauges measure the thickness of steel, stainless steel, and aluminum without removing the coating. They have an ultrasonic probe that provides highly accurate readings; use the included ultrasonic gel for maximum surface contact. Gauges come with a calibration certificate traceable to NIST that states the product has passed a test for accuracy. They include a steel test block for verifying the accuracy of readings.
Hazardous location environmental ratings indicate whether manufacturers have included safety features in products to facilitate their safe use in a hazardous environment. Before selecting a product for a hazardous location, ensure it is rated for your environment. See About Hazardous Location Environmental Ratings.
Gauges cannot be sold to California or Oregon due to electrical efficiency requirements.
Inch
mm
Accuracy
Batteries
Included
Battery
Charger
Included
Specifications
Met
Environmental
Rating
Cannot
Be
Sold To
Each

For Use On

Aluminum,

Stainless

Steel,

Steel

0.1"-9.995"
3-250
±0.005"
Yes
Yes
CSA-US Certified, CSA Certified, ATEX I M1 Ex ia I Ma, ATEX II 1 G Ex ia IIC T6 Ga, CE Marked, IECEx Ex ia I Ma, IECEx Ex ia IIC T2/T3/T6 Ga
NEC Class I Divisions 1, 2 Groups A, B, C, D
IEC Zone 0 Groups IIC, IIB, IIA
IP05
CA, OR
0000000
000000000