Clean Room
Heat-Shrink

Tubing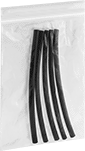 Material:

Polyolefin Plastic
Shrink

Ratio:

2:

1
Dielectric

Strength:

1,

800

V/mil

Shrink

Temperature:

250° F

Temperature

Range:

-65° to 250° F

Specifications

Met:

USP VI Certified
After being cleaned with alcohol, this tubing is bagged and sealed in a clean room. It's USP VI certified for material quality and purity. Sterilize with steam, gas, and radiation. When heated, it creates a moisture-resistant seal on metal, glass, and most plastics.
Dielectric strength is the maximum voltage a material can handle before it starts to breakdown.
For technical drawings and 3-D models, click on a part number.