Wrap-Around

Heat-Shrink

Tubing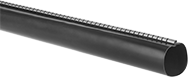 Material:

Polyolefin Plastic
Shrink

Ratio:

3:

1
Shrink

Temperature:

250° F
Protect wire and cable without disconnecting them from an assembly. For a water-resistant seal, this wrap has an adhesive lining that melts when the tubing is heated and bonds to the underlying surface.
Dielectric strength is the maximum voltage a material can handle before it starts to breakdown.
ID Before Shrinking is a minimum value and may be larger than published.
Before
Shrinking

Min.

After
Shrinking

Min.

Wall

Thick.


After Shrinking
Temperature


Range,

°F

Dielectric
Strength
Color
Each
Each

Locking Channel Closure

1.7"
0.4"
0.09"
-30° to 210°
350 V/mil
Black
0000000
000000
0000000
000000
2.95"
0.6"
0.1"
-30° to 210°
350 V/mil
Black
0000000
00000
0000000
00000
3.7"
0.98"
0.1"
-30° to 210°
350 V/mil
Black
0000000
00000
0000000
00000
5.4"
1.34"
0.1"
-30° to 210°
350 V/mil
Black
0000000
00000
0000000
00000
6.3"
1.65"
0.1"
-30° to 210°
350 V/mil
Black
0000000
00000
0000000
000000
7.8"
1.89"
0.11"
-30° to 210°
350 V/mil
Black
0000000
00000
0000000
000000