Glass Cabinet Pivot Hinges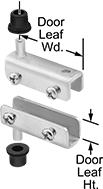 Slip the hinge pins into 11/32" Dia. × 5/16" Dp. holes in a cabinet to create free-swinging glass doors. All of these hinges have a nonremovable pin to deter tampering. A pair is for one door and includes one top and one bottom hinge for mounting to the top and bottom of the door.
Brass- and chrome-plated steel have more corrosion resistance than painted steel.
For technical drawings and 3-D models, click on a part number.
For

Max.


Door

Thick.

Ht.

Wd.

O'all




Wd.

Leaf


Thick.

Range
of Motion
Pin


Dia.

Pin
Material

Dia.

Dp.

Mounting
Fasteners
Included
Pair

1/4

"

1/2

"
1

11/32

"
1

9/16

"
0.080"
110°

13/64

"
Steel

11/32

"

5/16

"
Yes
00000000
00000

1/4

"

13/16

"
1

1/2

"
1

15/16

"
0.060"
110°

13/64

"
Steel

11/32

"

5/16

"
Yes
00000000
0000

Chrome-Plated

Steel—

Polished

1/4

"

1/2

"
1

11/32

"
1

9/16

"
0.080"
110°

13/64

"
Steel

11/32

"

5/16

"
Yes
00000000
0000

1/4

"

13/16

"
1

1/2

"
1

15/16

"
0.060"
110°

13/64

"
Steel

11/32

"

5/16

"
Yes
00000000
0000

Black Painted Steel

1/4

"

25/32

"
1

3/16

"
1

9/16

"
0.080"
110°

13/64

"
Steel

11/32

"

5/16

"
Yes
00000000
0000