Half-Mortise

Concealed Cabinet Hinges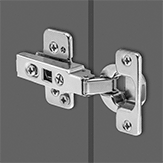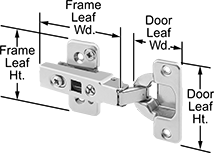 Overlay Door

Half Overlay Door
Also known as European hinges, only one cutout (mortise) is needed for these hinges—mount the frame leaf to the inside cabinet wall and mount the door leaf into a recessed cutout (mortise) on the inside of the cabinet door. Once mounted, the hinges will be completely hidden from the outside when the door is closed. They are commonly found on washroom and kitchen cabinetry. All of these hinges have a nonremovable pin to deter tampering.
Nickel-plated steel hinges have mild corrosion resistance. These hinges also have a quick-release clip for easy door removal.
304 stainless steel hinges are more corrosion resistant than nickel-plated steel. They also have good chemical resistance.
Hinges for overlay doors are for doors that cover their frame.
Hinges for half overlay doors are for doors that cover half of their frame.
For technical drawings and 3-D models, click on a part number.
Dp.

Dia.

Ht.

Wd.

Ht.

Wd.

O'all




Wd.

Range
of
Motion

Capacity,




lbs.

Pin
Material
Mounting
Fasteners
Included

No.

of
Mounting
Holes
Mounting
Hole
Style
Features
Each

For Overlay

Door—

Standard

7/16

"
1

3/8

"
2

1/4

"
1

1/2

"
2

1/4

"
2

15/16

"
4

11/32

"
100°
15
Steel
Yes
4
Countersunk
Quick-Release Clip
000000
00000

304 Stainless

Steel—

Polished

7/16

"
1

3/8

"
2

1/8

"
1

1/2

"
1

7/8

"
2

3/16

"
3

11/16

"
100°
11
304 Stainless Steel
Yes
4
Straight
__
00000000
00000

For Half Overlay

Door—

Standard

7/16

"
1

3/8

"
2

1/4

"
1

1/2

"
2

1/4

"
2

15/16

"
4

11/32

"
100°
15
Steel
Yes
4
Countersunk
Quick-Release Clip
000000
0000

1/2

"
1

3/8

"
2

1/4

"
1

7/16

"
2

1/4

"
3

1/16

"
4

15/32

"
110°
15
Steel
Yes
4
Countersunk
Quick-Release Clip
000000
0000

304 Stainless

Steel—

Polished

7/16

"
1

3/8

"
2

1/8

"
1

1/2

"
1

7/8

"
2

3/16

"
3

11/16

"
100°
11
304 Stainless Steel
Yes
4
Straight
__
00000000
00000