About
U-Joints
(Universal Joints)
U-joints are used to connect two shafts that have a high amount of misalignment.
High-Torque

Easy-Install

Single

U-Joints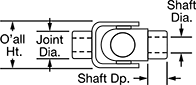 Replacement Bearing Assembly
These U-joints handle at least 11,000 in.-lbs. of torque. Connect to shafts using the keyway and included set screws—no drilling required. All have needle bearings for operating at higher speeds than other types of bearings.
For technical drawings and 3-D models, click on a part number.
Dia.

Dp.

Joint


Dia.

Ht.

Lg.

Wd.

Dp.

Max.


Operating
Angle

Max.




Speed,


rpm

Max.




Torque,




in.-lbs.

3°


Operating
Angle

10°


Operating
Angle
Includes
Each

Iron with Steel Bearings

3/4

"
1

13/64

"
1

5/8

"
2

1/2

"
5"

3/16

"

3/32

"
45°
1,000
11,600
1,260 in.-lbs. @ 1,000 rpm
720 in.-lbs. @ 1,000 rpm
Grease Fitting
000000
000000

7/8

"
1

13/64

"
1

5/8

"
2

1/2

"
5"

3/16

"


1/4

"

3/32

"


1/8

"
45°
1,000
11,600
1,260 in.-lbs. @ 1,000 rpm
720 in.-lbs. @ 1,000 rpm
Grease Fitting
000000
000000
1"
1

13/64

"
1

5/8

"
2

1/2

"
5"

3/16

"


1/4

"

3/32

"


1/8

"
45°
1,000
11,600
1,260 in.-lbs. @ 1,000 rpm
720 in.-lbs. @ 1,000 rpm
Grease Fitting
000000
00000
1

1/8

"
1

5/32

"
2

1/4

"
2

1/2

"
5"

1/4

"


5/16

"

1/8

"


5/32

"
45°
1,000
11,600
1,260 in.-lbs. @ 1,000 rpm
720 in.-lbs. @ 1,000 rpm
Grease Fitting
000000
000000
1

1/4

"
1

5/32

"
2

1/4

"
2

1/2

"
5"

1/4

"


5/16

"

1/8

"


5/32

"
45°
1,000
11,600
1,260 in.-lbs. @ 1,000 rpm
720 in.-lbs. @ 1,000 rpm
Grease Fitting
000000
000000

Steel with Steel Bearings

3/4

"
1

29/64

"
2"
2

9/16

"
5

1/2

"

3/16

"

3/32

"
45°
1,000
22,700
2,220 in.-lbs. @ 1,000 rpm
1,260 in.-lbs. @ 1,000 rpm
Grease Fitting
0000000
000000

7/8

"
1

29/64

"
2"
2

9/16

"
5

1/2

"

1/4

"

1/8

"
45°
1,000
22,700
2,220 in.-lbs. @ 1,000 rpm
1,260 in.-lbs. @ 1,000 rpm
Grease Fitting
0000000
000000
1"
2"
2

1/16

"
3

5/32

"
7"

3/16

"


1/4

"

3/32

"


1/8

"
45°
1,000
22,700
2,220 in.-lbs. @ 1,000 rpm
1,260 in.-lbs. @ 1,000 rpm
Grease Fitting
0000000
000000
1

1/4

"
1

3/16

"
2

1/4

"
2

9/16

"
5

1/2

"

1/4

"

1/8

"
45°
1,000
22,700
2,220 in.-lbs. @ 1,000 rpm
1,260 in.-lbs. @ 1,000 rpm
Grease Fitting
0000000
000000
1

1/2

"
1

3/16

"
2

1/4

"
2

9/16

"
5

1/2

"

3/8

"

3/16

"
45°
1,000
22,700
2,220 in.-lbs. @ 1,000 rpm
1,260 in.-lbs. @ 1,000 rpm
Grease Fitting
0000000
000000