Mortise-Mount

Lift-Off

Hinges with Holes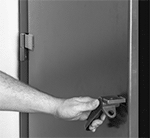 Left Side
Door-Mounting
Location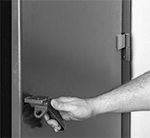 Right Side
Door-Mounting
Location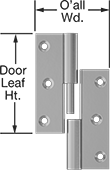 1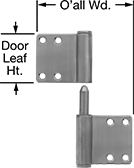 2
Hinge leaves fit into two cutouts (mortises) to mount flush with the door and frame. The hinge pin is permanently attached to the frame leaf so you can quickly lift the door off the hinge without removing the pin. Capacity is based on two hinges per door.
Brass hinges are mildly corrosion resistant.
304 stainless steel hinges resist corrosion better than brass. They also have good chemical resistance.
For technical drawings and 3-D models, click on a part number.
Style

Ht.

Wd.

Ht.

Wd.

O'all




Wd.

Leaf


Thick.

Range
of
Motion

Capacity,




lbs.

Door
Mounting
Location
Pin


Dia.

Pin
Material
Mounting
Fasteners
Included
Each
1
2

1/2

"

7/8

"
2

1/2

"

7/8

"
1

3/4

"
0.104"
270°
Not Rated
Left Side

3/16

"
Brass
Yes
000000000
000000
1
2

1/2

"

7/8

"
2

1/2

"

7/8

"
1

3/4

"
0.104"
270°
Not Rated
Right Side

3/16

"
Brass
Yes
000000000
00000
2
2"
1

31/32

"
2"
1

31/32

"
3

15/16

"
0.118"
270°
85
Reversible

25/64

"
304 Stainless Steel
Yes
00000000
00000
2
2

1/2

"
1

25/32

"
2

1/2

"
1

25/32

"
3

9/16

"
0.118"
270°
110
Reversible

15/32

"
304 Stainless Steel
Yes
00000000
00000