Mortise-Mount

Two-Way

Swinging Door Hinges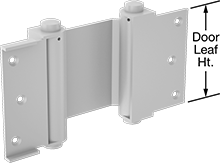 Hinge

Replacement Tension Pin
The hinge leaves fit in cutouts (mortises) on the edge of a door. Open a door or gate in either direction and these hinges pull it closed. Use the included tension adjustment tool to adjust the closing tension.
Brass-, and chrome-plated steel hinges are more corrosion resistant than primed steel.
For technical drawings and 3-D models, click on a part number.
For

Min.


Door


Ht.

For

Max.


Door


Wd.

For
Door


Thick.

Ht.

Wd.

Ht.

Wd.

Leaf


Thick.

Range
of
Motion

Capacity,




lbs.

Pin
Material
Mounting
Fasteners
Included
Each
Each

Primed Steel

60"
32"

3/4

"-1"
3"
1

5/8

"
2

3/4

"
1

1/2

"
0.080"
180°
35
Steel
Yes
00000000
000000
00000000
00000
80"
36"

7/8

"-1

1/4

"
4"
1

5/8

"
3

3/4

"
1

1/2

"
0.080"
180°
75
Steel
Yes
00000000
00000
00000000
0000
80"
36"
1

1/8

"-1

1/2

"
5"
2"
4

19/32

"
1

15/16

"
0.090"
180°
90
Steel
Yes
00000000
00000
00000000
0000
84"
36"
1

1/4

"-1

3/4

"
6"
2

1/8

"
5

9/16

"
2

1/4

"
0.110"
180°
100
Steel
Yes
00000000
00000
00000000
0000
60"
32"

3/4

"-1"
3"
1

5/8

"
2

3/4

"
1

1/2

"
0.080"
180°
35
Steel
Yes
00000000
00000
00000000
0000
80"
36"

7/8

"-1

1/4

"
4"
1

5/8

"
3

3/4

"
1

1/2

"
0.080"
180°
75
Steel
Yes
00000000
00000
00000000
0000
80"
36"
1

1/8

"-1

1/2

"
5"
2"
4

19/32

"
1

15/16

"
0.090"
180°
90
Steel
Yes
00000000
00000
00000000
0000
84"
36"
1

1/4

"-1

3/4

"
6"
2

1/8

"
5

9/16

"
2

1/4

"
0.110"
180°
100
Steel
Yes
00000000
00000
00000000
0000
60"
32"

3/4

"-1"
3"
1

5/8

"
2

3/4

"
1

1/2

"
0.080"
180°
35
Steel
Yes
00000000
00000
00000000
0000
80"
36"

7/8

"-1

1/4

"
4"
1

5/8

"
3

3/4

"
1

1/2

"
0.080"
180°
75
Steel
Yes
00000000
00000
00000000
0000
80"
36"
1

1/8

"-1

1/2

"
5"
2"
4

19/32

"
1

15/16

"
0.090"
180°
90
Steel
Yes
00000000
00000
00000000
0000
84"
36"
1

1/4

"-1

3/4

"
6"
2

1/8

"
5

9/16

"
2

1/4

"
0.110"
180°
100
Steel
Yes
00000000
00000
00000000
0000