Quick-Release

Locking Ball Socket End Fittings for Gas Springs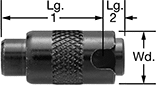 A spring-loaded socket locks your gas spring to the ball stud—squeeze the ends together to attach and to release. Thread these ball socket end fittings onto gas springs. They require a ball stud or ball stud mounting bracket (sold separately) to mount gas springs.
Select end fittings with a thread size that matches the rod and end thread sizes of your gas spring. The fittings will increase your gas spring's extended and compressed lengths, so add the Length 1 value for each fitting you attach.
For technical drawings and 3-D models, click on a part number.
Thread
Size

Thread


Pitch,

mm

ID,


mm
For Ball


Dia.,

mm

Lg. 1

Lg. 2

Wd.

Gender
Color
Material
Each
M6

1
10
10
1.14"
0.31"
0.69"
Female
Black
Electrocoated Steel
0000000
00000