Toilet Partition Door Hinges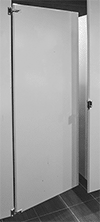 Left-Side
Door Mounting Location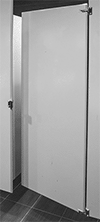 Right-Side
Door Mounting Location

Also known as gravity hinges, the weight of the door returns these hinges to a closed position without the help of springs. A pair includes one hinge for the top of the door and one for the bottom of the door. To choose a door mounting location, stand on the push side of the door—use a right-side hinge if the hinge is on the right or a left-side hinge if it's on the left.
304 stainless steel hinges are more corrosion resistant than chrome-plated brass. They also have good chemical resistance.
For technical drawings and 3-D models, click on a part number.
For
Door


Thick.

For
Frame


Thick.

Ht.

Wd.

Ht.

Wd.

O'all




Wd.

Leaf


Thick.

Range
of
Motion
Pin


Dia.

Pin
Material
Mounting
Fasteners
Included
Pair

Left Side Door Mounting Location

Chrome-Plated

Brass—

Polished

3/4

"

3/4

"
2

7/8

"
1

1/2

"
2

7/8

"
1

1/2

"
3"
0.094"
180°

9/32

"
Nylon Plastic
Yes
000000000
000000

3/4

"
1"
2

7/8

"
1

1/2

"
2

7/8

"
1

1/2

"
3"
0.094"
180°

9/32

"
Nylon Plastic
Yes
000000000
000000

7/8

"
1

1/4

"
2

7/8

"
1

1/2

"
2

7/8

"
1

1/2

"
3"
0.094"
180°

9/32

"
Nylon Plastic
Yes
000000000
000000
1"
1"
2

7/8

"
1

1/2

"
2

7/8

"
1

1/2

"
3"
0.094"
180°

9/32

"
Nylon Plastic
Yes
000000000
000000
1"
1

1/4

"
2

7/8

"
1

1/2

"
2

7/8

"
1

1/2

"
3"
0.094"
180°

9/32

"
Nylon Plastic
Yes
000000000
000000

3/4

"

3/4

"
2

7/8

"
1

21/32

"
2

7/8

"
1

21/32

"
3

5/16

"
0.125"
180°

9/32

"
304 Stainless Steel
Yes
000000000
00000

3/4

"
1"
2

7/8

"
1

21/32

"
2

7/8

"
1

21/32

"
3

5/16

"
0.125"
180°

9/32

"
304 Stainless Steel
Yes
000000000
00000
1"
1"
2

7/8

"
1

21/32

"
2

7/8

"
1

21/32

"
3

5/16

"
0.125"
180°

9/32

"
304 Stainless Steel
Yes
000000000
000000
1"
1

1/4

"
2

7/8

"
1

21/32

"
2

7/8

"
1

21/32

"
3

5/16

"
0.125"
180°

9/32

"
304 Stainless Steel
Yes
000000000
000000

Right Side Door Mounting Location

Chrome-Plated

Brass—

Polished

3/4

"

3/4

"
2

7/8

"
1

1/2

"
2

7/8

"
1

1/2

"
3"
0.094"
180°

9/32

"
Nylon Plastic
Yes
000000000
00000

3/4

"
1"
2

7/8

"
1

1/2

"
2

7/8

"
1

1/2

"
3"
0.094"
180°

9/32

"
Nylon Plastic
Yes
000000000
000000

7/8

"
1

1/4

"
2

7/8

"
1

1/2

"
2

7/8

"
1

1/2

"
3"
0.094"
180°

9/32

"
Nylon Plastic
Yes
000000000
000000
1"
1"
2

7/8

"
1

1/2

"
2

7/8

"
1

1/2

"
3"
0.094"
180°

9/32

"
Nylon Plastic
Yes
000000000
000000
1"
1

1/4

"
2

7/8

"
1

1/2

"
2

7/8

"
1

1/2

"
3"
0.094"
180°

9/32

"
Nylon Plastic
Yes
000000000
000000

3/4

"

3/4

"
2

7/8

"
1

21/32

"
2

7/8

"
1

21/32

"
3

5/16

"
0.125"
180°

9/32

"
304 Stainless Steel
Yes
000000000
00000

3/4

"
1"
2

7/8

"
1

21/32

"
2

7/8

"
1

21/32

"
3

5/16

"
0.125"
180°

9/32

"
304 Stainless Steel
Yes
000000000
00000
1"
1"
2

7/8

"
1

21/32

"
2

7/8

"
1

21/32

"
3

5/16

"
0.125"
180°

9/32

"
304 Stainless Steel
Yes
000000000
000000
1"
1

1/4

"
2

7/8

"
1

21/32

"
2

7/8

"
1

21/32

"
3

5/16

"
0.125"
180°

9/32

"
304 Stainless Steel
Yes
000000000
000000