Toilet Partition Door Pivot Hinges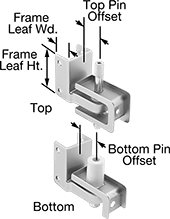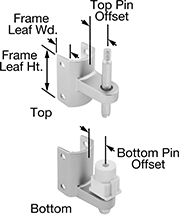 Designed to wrap around the edge of the partition frame, these hinges provide a stronger hold than other toilet partition door hinges. Also known as gravity hinges, the weight of the door returns these hinges to a closed position without the help of springs. Hinge pins fit into cutouts (mortises) in doors. A pair includes one hinge for the top of the door and one for the bottom of the door.
For technical drawings and 3-D models, click on a part number.
For Door


Thick.

Ht.

Wd.

Range
of Motion
Pin


Dia.

Top
Bottom
Pin
Material
Mounting
Fasteners Included
Pair

For Plastic Doors

Chrome-Plated

Zinc—

Polished

7/8

"
2

1/4

"
1"
110°

3/8

"
1

1/4

"
1

1/4

"
Steel
Yes
00000000
000000
1"
2

1/4

"
1"
110°

3/8

"
1

1/4

"
1

1/4

"
Steel
Yes
00000000
00000

For Steel Doors

Chrome-Plated

Zinc—

Polished

1"
2

3/16

"

11/16

"
110°

3/8

"
1

1/8

"
1

1/16

"
Steel
Yes
00000000
00000