Angle Iron Clamps for Threaded Rod

Shown With One Pair of Angles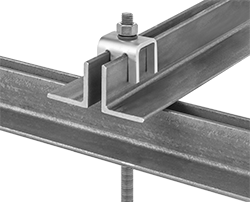 Shown with Two Pairs of Angles
A secure way to hang threaded rod from a pair of angles, such as those used in ceiling joists, without the need to drill or weld. These clamps are commonly used to suspend HVAC, conveyor, and other overhead systems. They may also be used to connect two pairs of angles at 90°. Clamps are zinc-plated steel for good corrosion resistance. Each clamp includes a bracket and square washer. Secure with a hex nut (sold separately).
Capacity is the maximum load for two clamps holding a pair of angles across parallel joists. The values listed are for the maximum distance between joists, which is 6 ft. For shorter distances, capacities are higher.
For technical drawings and 3-D models, click on a part number.
For
Thread
Size

For
Angle


Thick.

For


Max.


Beam

Span,

ft.

Capacity,




lbs.

Mount
Type
Inside


Wd.

Lg.

Wd.

Ht.

Thick.

Threaded
Rod
Included
Material

No.


Included
Each

5/8

"-11,

5/8

"-18

3/16

"-

1/4

"
6
500
Clamp On
1

1/2

"
2

3/8

"
2"
2"

1/4

"
No
Steel
1
0000000
000000
Seismic Bracing Anchors and Brackets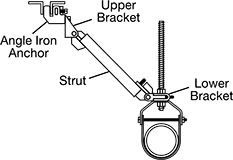 Angle Iron Mount
These OSHPD preapproved anchors and brackets support threaded-rod-mount hangers during seismic activity. A complete seismic bracing system consists of an upper bracket, a lower bracket, and strut or pipe (sold separately). Brackets work with standard-wall (Schedule 40) pipe sizes 1-2 as well as 1 5/8" wide strut channel. Mount the upper bracket directly to a ceiling or other flat surface, or use an anchor to mount the system to angles, beams, and joists.
Angle iron anchors allow you to mount upper brackets to pairs of angles, such as those used in ceiling joists. Their set screws have heads that break off when the screw is tightened to ensure proper installation.

Angle Iron Anchor
For

Max.


Beam


Thick.

Wd.

Lg.

Ht.

Material

Cap.,




lbs.

No.

of Set
Screws
Included
Specifications
Met
Certification
Includes
Each

Angle Iron Anchor

3/8

"
3

5/16

"
3"
2

1/2

"
Steel
1,000
2
C-UL Listed
FM Approved
UL Listed
OSHPD Preapproved

1/2

" Bolt and Nut, Set Screws
0000000
000000