Corner-Reinforcing

Brackets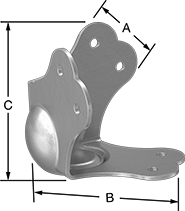 Outside Corner
Strengthen corners of cases and crates.
Outside-corner bracket has dimples that fit together so crates can be stacked.
For technical drawings and 3-D models, click on a part number.
(A)

(B)

(C)

Thick.

Capacity
Fasteners
Included
Number
of Holes
Hole
Style
For Screw
Size
Each

Outside Corner

1

5/8

"
3"
2

5/8

"
0.08"
Not Rated
No
6
Straight
No. 10
00000000
00000
Mounting Sockets for
Friction-Grip

Stem Casters
Sockets for angle iron and channel mount to the sides or corners of angle iron and channel. Sockets for round tubing and square tubing press-fit into tubing. Use the round stem shape with grip-ring stem casters and the tapered round stem shape with grip-neck stem casters. Sockets for wood have teeth on the edge of the socket to grip wood legs for a secure hold.

Outside Corner Mount for Angle
Iron/Channel

Round Stem
Mount.


Location
For
Use
On
For
Stem
Shape
For
Stem


Dia.

For

Max.


Stem


Lg.

For
Screw
Size

Lg.

Wd.

Material

Pkg.




Qty.

Pkg.

Outside Corner
Angle Iron, Channel
Round

7/16

"
1

1/2

"

1/4

"
1

11/16

"
1

3/8

"
Zinc-Plated Steel
4
00000000
000000