Door Chains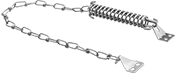 For Screen
and Storm Doors
Mount one end to the frame and the other end to the door to prevent it from opening too far.
Finish
Material
For Door

Wd.

Chain


Lg.

No.

of
Springs
Mount Type
Mounting
Fasteners Included
Each

For Screen and Storm Doors

Zinc
Steel
30", 32", 36"
18"
1
Unthreaded Hole
Yes
0000000
00000

3
Flip holders down to keep doors open; flip up to release. All have a nonmarring, replaceable rubber pad. Door-to-floor clearance is the distance from the floor to the bottom edge of your door.
Style 3 can be secured in the up position when not in use.