About Measuring Hose and Tube Clamps
What's the best way to determine the clamp size you'll need? Simply measure the outside diameter of your hose with the fitting installed. Some clamps accommodate a range of sizes, so be sure the size you need falls in the middle of that range.
Banding for
Build-Your-Own

Low-Profile

Band Clamps for Firm Hose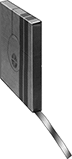 Keep this banding on hand for both permanent connections and emergency repairs. You'll need an installation tool and a buckle (both sold separately) to create a band clamp. Banding comes in a dispenser carton. It has smooth, rounded edges to protect your hose from cuts.
Galvanized steel banding has fair corrosion resistance.
201 stainless steel banding has good corrosion resistance.
304 stainless steel banding has very good corrosion resistance.
316 stainless steel banding has excellent corrosion resistance.
Black polyester-coated 201 stainless steel banding has excellent abrasion and UV resistance.
Note: The breaking strength listed is the maximum tension that can be applied to the banding. For an extra-strong clamp, wrap the banding around twice, threading it through the buckle each time.
For technical drawings and 3-D models, click on a part number.
Wd.

Thick.

Breaking


Strength,

lbs.

Reusable
Each
Each
Each

Galvanized Steel

1/2

"
0.03"
1,125
No
000000
00
0000000
000000
000000
00

5/8

"
0.03"
1,400
No
000000
00
0000000
00000
000000
00

3/4

"
0.03"
1,600
No
000000
00
0000000
000000
000000
00

201 Stainless Steel

1/4

"
0.02"
500
No
000000
00
0000000
00000
000000
00

3/8

"
0.025"
900
No
000000
00
0000000
000000
000000
00

1/2

"
0.03"
1,500
No
000000
00
0000000
000000
000000
00

5/8

"
0.03"
1,800
No
0000000
000000
0000000
000000
000000
00

3/4

"
0.03"
2,250
No
000000
00
0000000
000000
000000
00

3/4

"
0.044"
3,300
No
000000
00
0000000
000000
000000
00
1"
0.044"
4,400
No
000000
00
0000000
000000
000000
00
1

1/4

"
0.044"
5,500
No
000000
00
0000000
000000
000000
00

304 Stainless Steel

3/8

"
0.02"
600
No
000000
00
000000
00
0000000
0000000

1/2

"
0.02"
850
No
000000
00
000000
00
0000000
000000

5/8

"
0.02"
1,000
No
000000
00
000000
00
0000000
000000

3/4

"
0.02"
1,275
No
000000
00
000000
00
0000000
000000

316 Stainless Steel

1/4

"
0.02"
400
No
000000
00
0000000
000000
000000
00

3/8

"
0.025"
750
No
000000
00
0000000
000000
000000
00

1/2

"
0.03"
1,200
No
000000
00
0000000
000000
000000
00

5/8

"
0.03"
1,500
No
000000
00
0000000
000000
000000
00

3/4

"
0.03"
1,800
No
000000
00
0000000
000000
000000
00

Black

Polyester-Coated

201 Stainless Steel

3/4

"
0.03"
2,250
No
000000
00
0000000
000000
000000
00