CamelBak Water Backpacks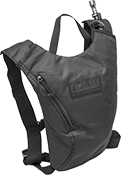 Stay hydrated while working outdoors and in other high-heat environments. These lightweight backpacks have an easy-to-fill reservoir with a delivery tube that supplies water to you.
Cleaning brush sets include a large brush for cleaning the reservoir and a small brush for cleaning the delivery tube. They cannot be sold outside the United States due to product labeling requirements.