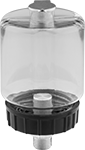 Mount these reservoirs directly to your machine, or use them with a flow-adjustment valve and brush (each sold separately) to create a dispenser.
Reservoirs with removable filter prevent valve blockage.
Reservoirs—225° F Max. Temp.
Cap.

Bowl


Dia.

Overall


Ht.

Bowl
Material
Pressure
Regulation
ISO
Grade
SAE
Grade
SSU
Grade
AGMA
Grade
Each
2 qt.
5"
11

1/16

"
Plastic
Vented
150
90W
700
4
0000000
000000
Reservoirs with Removable Aluminum Filter—225° F Max. Temp.
Cap.

Bowl


Dia.

Overall


Ht.

Bowl
Material
Pressure
Regulation
ISO
Grade
SAE
Grade
SSU
Grade
AGMA
Grade
Wire
Mesh
Material
Removes
Particle
Size Down To
Each
2 qt.
5"
11

1/16

"
Plastic
Vented
150
90W
700
4
304 Stainless Steel
149 microns
0000000
000000