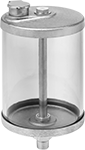 Mount these reservoirs directly to your machine, or use them with a flow-adjustment valve and brush (each sold separately) to create a dispenser.
Reservoirs with 140° F max. temp. have NPTF (Dryseal) threads, which are compatible with NPT threads. Flow rate depends on temperature.
Reservoirs—140° F Max. Temp.
Cap.

Bowl


Dia.

Overall


Ht.

Housing
Material
Bowl
Material
Pressure
Regulation
ISO
Grade
SAE
Grade
SSU
Grade
AGMA
Grade
Each
1 gal.
5

1/2

"
15

1/4

"
Aluminum
Plastic
Vented
Not Rated
Not Rated
Not Rated
Not Rated
0000000
0000000
Hydraulic Tanks
Store fluids for a hydraulic power unit or circulating-oil system. Choose a tank capacity about three times greater than your requirement to allow for heat dissipation. Tanks with only a drain connection require you to drill your own inlet/outlet connection and add pipe suction flanges (sold separately). Flanges seal pipes that pass through the top plate of your tank.
Breather vents prevent excess pressure in tanks and allow a free flow of air.
For technical drawings and 3-D models, click on a part number.