DFARS (Defense Acquisition Regulations Supplement)

DFARS

(Defense

Acquisition
Regulations

Supplement)
Motion-Sensing

Door Chimes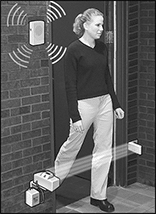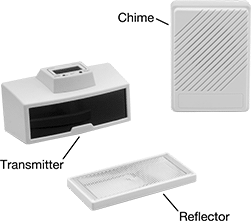 A chime announces when someone passes through the infrared light beam and a counter keeps track of each entrance and exit. Mount the transmitter and beam reflector between 2 and 20 feet apart. The chime's volume is adjustable up to 85 dB. It cannot be sold to California due to local energy efficiency regulations.
Additional chimes (sold separately) can be added to the transmitter.
Wd.

Ht.

Dp.

Wd.

Ht.

Dp.

Wd.

Ht.

Material
Color
Volume
For
Use
Outdoors
Electrical
Connection
Includes
Mount
Type

Mount.


Fasteners
Included
Cannot
Be
Sold To
Each
3

3/4

"
5"
1

1/2

"
5"
2

3/4

"
2

1/2

"
4"
2"
Plastic
White
85 dB @ 10 ft.
No
Two-Prong Plug
26-ft. of 24 Gauge Wire, Beam Reflector, Chime, Plug-In Transformer, Transmitter
Surface
Yes
CA
00000000
0000000
Motion-Detecting

Alarm Switches

Wire switches to an alarm system to activate when motion is detected. They can be set to ignore objects that weigh less than 80 pounds.
No.

of
Circuits
Controlled
Color

Coverage,




sq.




ft.

Degree
of
Coverage
Input
Voltage
Wire
Connection
Type

No.


of
Terminals

Ht.

Wd.

Dp.

Housing
Material
Mounting
Hardware
Included
Temperature


Range,




°F

Each
1
White
40
90°
9V DC-15V DC
Screw Terminals
2
4

3/4

"
2

3/4

"
1

3/4

"
Plastic
Yes
10° to 130°
0000000
000000