Inline Concentration Meters
Measure and monitor the sugar concentration of liquids in process lines and tanks without taking manual readings. These meters mount directly to your line and show you the sugar levels on a display. They can also transmit that information to remote displays and programmable logic controllers (PLCs). Use them to respond to problems quickly, and integrate them into your systems to trigger actions automatically. They're also known as refractometers.
These meters come with a calibration certificate traceable to NIST that states they've passed a test for accuracy. Automatic temperature compensation standardizes their readings at 68° F, so fluctuating temperatures won't affect the results.
Made of stainless steel, they're chemical and temperature resistant for long-term contact with liquids and food.
Connect these meters to your tank or line using their quick-clamp sanitary connection. To join them, you'll need your own quick-clamp fitting, clamp, and gasket on the tank or line side. Add a quick-clamp tube fitting to adapt these meters to fit smaller pipe. Add a barbed hose fitting to connect them to hose and flexible tubing.
Meters with 0-33% concentration range are often used to measure coolants, cutting oils, and other industrial chemicals. They come with a power/recorder output cable that brings in power and sends out signals to your PLC or other receiving device. Rated IP64, they're dust tight and protected against water splashed from all directions.
Meters with 0-80% concentration range work with a wide variety of substances, from juices and gelatins to industrial chemicals. They're more accurate than meters with 0-33% concentration range, which can be useful in food applications. With cooling fins to dissipate heat, they're able to measure liquids up to 320° F, making them suitable for clean-in-place (CIP) and steam-in-place (SIP) cleanings. Rated IP67, they're dust tight and withstand temporary submersion. That rating is often required for cleaning processes used in food and pharmaceutical plants. Add a data cable to connect these meters to your system, so you can monitor readings remotely and trigger actions automatically.

0-33%
Concentration Range

0-33%
Concentration Range Display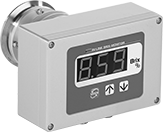 0-80%
Concentration Range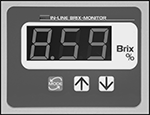 0-80%
Concentration Range Display
Scale
Concentration
Range
Automatic Temperature
Compensation


(ATC)

Range,

°F

Height
Diameter
Width
Depth
Display
Lens
Material
Environmental
Rating

Features
Includes
Each

For Testing Cutting

Fluids,

Lubricants,

Sugar Concentration

304 Stainless Steel

Brix (Sugar)
0-33%
50° to 120°
4"
3

9/16

"
__
2

1/4

"
LCD
Glass
IP64

Automatic Temperature Compensation
Power/Recorder Output Cable
0000000
000000000

316L Stainless Steel

Brix (Sugar)
0-80%
50° to 200°
4

3/8

"
__
6

1/4

"
6

5/8

"
LED
Glass
IP67

Automatic Temperature Compensation, Cooling Fins
__
0000000
00000000