How to

Identify and Measure Fittings
Pipe size is an industry designation, not the actual size. View information about how to measure threaded and unthreaded pipe and pipe fittings.
Low-Pressure

Steel Unthreaded Pipe Flanges
Bolt two flat-surface flanges or two raised-surface flanges of the same size together with a gasket (sold separately) to create an access point in a pipe line. Flanges are for use with low-pressure applications in noncorrosive environments.
Stub-end flanges are also known as lap-joint flanges. Use them with a stub-end straight adapter (not included). The stub-end straight adapter slides into the flange and welds to pipe (not the flange). Since the flange isn't welded to the pipe, it can be disconnected easily for frequent cleaning and inspecting.
For technical drawings and 3-D models, click on a part number.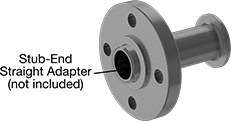 Flange with Straight Adapter
(Front)

Flat Surface on Back
For Use

With:

Air,

Natural

Gas,

Oil,

Steam,

Water
Pressure

Class: 150

Certification:

Material Certificate with Traceable Lot Number and Test Report
Pipe Nipples and

Pipe:

Use Schedule 40 steel

Fittings:

Use Schedule 40 iron or steel
Specifications

Met:

MSS SP-

25,

ASTM

A105,

ASME

B16.

5
Pipe
Size

Flange
OD
For Bolt


Dia.

Dia.

No.


of
Bolt
Circle


Dia.

Max.


Pressure

Max.


Steam
Pressure
Each
Each

1/2

3

1/2

"

1/2

"

5/8

"
4
2

3/8

"
285 psi @ 72° F
150 psi @ 300° F
000000000
000000
000000000
000000

3/4

3

7/8

"

1/2

"

5/8

"
4
2

3/4

"
285 psi @ 72° F
150 psi @ 300° F
000000000
00000
000000000
00000
1

4

1/4

"

1/2

"

5/8

"
4
3

1/8

"
285 psi @ 72° F
150 psi @ 300° F
000000000
00000
000000000
00000
1

1/4

4

5/8

"

1/2

"

5/8

"
4
3

1/2

"
285 psi @ 72° F
150 psi @ 300° F
000000000
00000
000000000
00000
1

1/2

5"

1/2

"

5/8

"
4
3

7/8

"
285 psi @ 72° F
150 psi @ 300° F
000000000
00000
000000000
00000
2

6"

5/8

"

3/4

"
4
4

3/4

"
285 psi @ 72° F
150 psi @ 300° F
000000000
00000
000000000
00000
2

1/2

7"

5/8

"

3/4

"
4
5

1/2

"
285 psi @ 72° F
150 psi @ 300° F
000000000
00000
000000000
000000
3

7

1/2

"

5/8

"

3/4

"
4
6"
285 psi @ 72° F
150 psi @ 300° F
000000000
00000
000000000
000000
4

9"

5/8

"

3/4

"
8
7

1/2

"
285 psi @ 72° F
150 psi @ 300° F
000000000
00000
000000000
000000
5

10"

3/4

"

7/8

"
8
8

1/2

"
285 psi @ 72° F
150 psi @ 300° F
000000000
00000
000000
00
6

11"

3/4

"

7/8

"
8
9

1/2

"
285 psi @ 72° F
150 psi @ 300° F
000000000
00000
000000000
000000
8

13

1/2

"

3/4

"

7/8

"
8
11

3/4

"
285 psi @ 72° F
150 psi @ 300° F
000000000
000000
000000000
000000
10

16"

7/8

"
1"
12
14

1/4

"
285 psi @ 72° F
150 psi @ 300° F
00000000
000000
000000
00
12

19"

7/8

"
1"
12
17"
285 psi @ 72° F
150 psi @ 300° F
00000000
000000
000000
00