About Selecting Thermal Insulation
Ultra-Insulating

Low-Temperature

Polyisocyanurate Foam Pipe Insulation
This very rigid insulation offers the lowest heat-flow rate of our pipe insulation and restricts absorption of water, air, and gas. It is typically used in process piping and chiller plants and performs best in applications below 50° F. To use outdoors, add metal jacketing.
Tubes have a kraft paper all-service jacket (ASJ) that resists mold and mildew by allowing moisture to evaporate. They have an adhesive strip closure.
For technical drawings and 3-D models, click on a part number.
Tubes with Kraft Paper Jacketing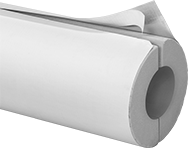 Tube
Temperature

Range:

-295° to 300° F

Jacket Temperature

Range:

-40° to 240° F

Heat Flow

Rate:

0.

17

Btu @

75° F

Density:

2

lbs./cu.

ft.

Color:

Peach
Jacket

Color:

White
Specifications

Met:

ASTM E84

25/50

for Flame and Smoke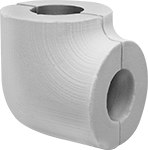 Elbow
Temperature

Range:

-295° to 300° F

Heat Flow

Rate:

0.

17

Btu @

75° F

Density:

2

lbs./cu.

ft.

Color:

Peach
Specifications

Met:

ASTM E84

25/50

for Flame and Smoke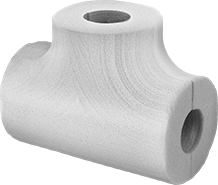 Tee
Temperature

Range:

-295° to 300° F

Heat Flow

Rate:

0.

17

Btu @

75° F

Density:

2

lbs./cu.

ft.

Color:

Peach
Specifications

Met:

ASTM E84

25/50

for Flame and Smoke