Social Distancing Floor Decals


To limit the spread of illness by helping people social distance, these decals have brightly-colored symbols and text that make them easy to see and understand. Made of vinyl or polyester, they withstand heavy foot and vehicle traffic, cleanings, and chemical and water spills. They have an adhesive back that sticks flat to smooth floors, and a textured surface that helps prevent slipping. Some meet ANSI/ASSP and OSHA standards that ensure facility floors are kept clean, dry, and free of any tripping hazards.
Place metal-detectable decals in hygienic areas such as processing facilities for food, pharmaceuticals, or cosmetics. These decals contain a foil lining that will set off metal detectors if part of a decal falls into the product, helping you comply with Hazard Analysis and Critical Control Point (HACCP) programs. Stick them to rough or smooth surfaces.
Fold-Flat

Social Distancing Signs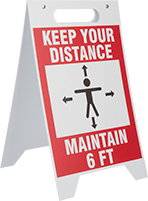 Keep Your Distance Maintain 6 FT
For spaces where you can't mount to a wall, these signs stand on tables or floors to remind people to social distance or wear a mask, preventing the spread of illness. Fold flat to store. Made of plastic, they resist wearing, chipping, and cracking. They also won't fade in the sun, so you can place them outside for short periods of time. Lightweight, they're easy to move.
Set 20" tall signs on floors in hallways, walkways, entrances, and areas with heavy foot traffic. Their message appears on their front and back, so people can read them from either direction.
Message
Location
Height
Width
Thickness
Material
Each

Keep Your Distance Maintain 6 FT

(English)

Front, Back
20"
12"
0.125"
Polystyrene Plastic
00000000
000000