Adjustable-Clearance

Keyed Alike Padlocks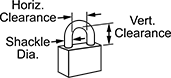 More versatile than other padlocks because the shackles can lock in several vertical positions. Choose these locks if you need several locks that open with the same key.
Warded locking mechanisms are a basic locking mechanism without pins or discs.
For technical drawings and 3-D models, click on a part number.
Vertical
Clearance
Horizontal
Clearance

Dia.

Material

Ht.

Wd.

Thick.

Manufacturer
and Model


No.

Bumper
Color

No.

of
Keys
Included
Key
Locking
Mechanism
Key


No.

1-5

6-Up

Laminated Steel Body

7/8

", 1

1/8

", 1

3/8

", 1

5/8

", 2"

13/16

"

9/32

"
Steel
1

3/16

"
1

3/4

"

7/8

"
Master Lock 510
Gray
2
Warded
F27
000000
00000
00000