Gear Box Grease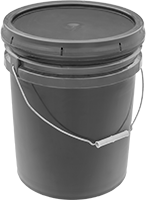 Excellent flow properties allow this grease to penetrate between gear teeth, so it works well within enclosed gear box applications. It can lubricate under heavy loads. The lithium thickener offers good heat and moisture resistance.
NLGI viscosity grade is a rating of a grease's consistency. NLGI 000 is about the consistency of ketchup. NLGI 00 is about the consistency of applesauce.
Grease lubricates most efficiently within the listed temperature range. Nonmelting grease can be used at temperatures above the maximum temperature briefly, but then will break down more quickly.
Mobil Mobilux EP 023 has the lowest viscosity of any grease we carry and is nearly fluid. Mobil Mobilux SHC 007 has a synthetic base oil, so it can handle a wider temperature range, is longer lasting, and is more resistant to oxidation than Mobilux EP 023.