High-Pressure

Carriage and Guide Rail Grease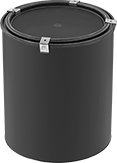 For use in high-pressure applications, this grease prevents wear and corrosion at loads up to 50,000 psi.
Grease lubricates most efficiently below the maximum temperature. Melting temperature is the point at which grease will fail and run out of equipment, leaving it to run dry.
Each
Base Oil
Size
Type

Temp.

Range,

°F

Melting


Temp.,

°F

Max.




Pressure,

psi
Color
Each

Petroleum Wax Thickener

Mineral
4 oz.
Tube
Not Rated to 130°
130°
50,000
Green
0000000
000000
Mineral
14 oz.
Grease Gun Cartridge
Not Rated to 130°
130°
50,000
Green
0000000
00000
Mineral
1 gal.
Can
Not Rated to 130°
130°
50,000
Green
0000000
000000
Package
Base Oil
Size
Type

Temp.

Range,

°F

Melting


Temp.,

°F

Max.




Pressure,

psi
Color

Pkg.




Qty.

Pkg.

Petroleum Wax Thickener

Mineral
4 oz.
Tube
Not Rated to 130°
130°
50,000
Green
24
00000000
0000000
Mineral
14 oz.
Grease Gun Cartridge
Not Rated to 130°
130°
50,000
Green
10
00000000
000000
Mineral
1 gal.
Can
Not Rated to 130°
130°
50,000
Green
2
00000000
000000