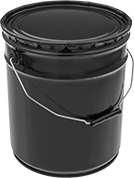 This grease remains stable and in place under high pressure, heavy loads, and shock loads. It's often used for demanding mining, construction, and automotive applications.
NLGI viscosity grade is a rating of a grease's consistency. NLGI 0 is about the consistency of brown mustard. NLGI 1 is about the consistency of tomato paste. NLGI 2 is about the consistency of peanut butter.
Weld load measures a grease's ability to withstand pressure in kilograms of force (kgf). The higher the rating, the more pressure the grease can withstand.
Mineral-oil-based grease, derived from petroleum, is usually more economical than synthetic-oil-based grease. Synthetic-oil-based grease lasts longer than mineral-oil-based grease and generally withstands a wider range of temperatures.
Grease with lithium thickener offers good heat and moisture resistance. Grease with aluminum thickener has good moisture resistance and excellent oxidation resistance. Grease with silica thickener has excellent heat resistance and good oxidation resistance. It also resists washing off and reduces corrosion in wet environments.
Grease with moly (molybdenum disulfide) and grease with graphite have excellent resistance to wear and can withstand high-load and high-pressure applications.
Grease that cannot be sold to California exceeds local regulatory limits on VOCs (volatile organic compounds).
Grease lubricates most efficiently within the listed temperature range. Melting temperature is the point at which grease will fail and run out of equipment, leaving it to run dry.
Each
NLGI
Viscosity
Grade
Base
Oil
Additive
Size
Type

Temp.




Range,




°F

Melting


Temp.,




°F

Weld


Load,


kgf
Color
Cannot
Be
Sold To
Each

DuPont Molykote

G-4700

Extreme Pressure

Synthetic—

Lithium Thickener

2
Synthetic
Moly
13.7 oz.
Grease Gun Cartridge
-40° to 350°
545°
375
Black
__
0000000
000000

Loctite® LB 8632

ViperLube—

Silica Thickener

2
Synthetic
__
14.1 oz.
Grease Gun Cartridge
120° to 420°
420° F
160
White
__
00000000
00000

Mobil Mobilgrease XHP 222

Special—

Lithium Thickener

2
Mineral
Moly
13.7 oz.
Grease Gun Cartridge
Not Rated to 280°
535°
315
Gray
__
0000000
0000

Mobil Mobilgrease XHP

461—

Lithium Thickener

1
Mineral
__
13.7 oz.
Grease Gun Cartridge
Not Rated to 280°
535°
315
Dark Blue
__
0000000
00000

Mobil Mobilith SHC

220—

Lithium Thickener

2
Synthetic
__
13.4 oz.
Grease Gun Cartridge
-40° to 300°
505°
250
Red
__
000000
00000

Shell Gadus S3

V220C—

Lithium Thickener

1
Mineral
__
14 oz.
Grease Gun Cartridge
0° to 280°
460°
315
Red
__
0000000
0000
2
Mineral
__
14 oz.
Grease Gun Cartridge
0° to 280°
460°
315
Red
__
0000000
0000

Aluminum Thickener

0
Mineral
__
13.4 oz.
Grease Gun Cartridge
0° to 300°
500°
400
White
__
000000
00000
1
Mineral
__
13.4 oz.
Grease Gun Cartridge
0° to 300°
493°
800
White
__
0000000
00000
2
Mineral
Moly
14 oz.
Grease Gun Cartridge
10° to 350°
500°
620
Black
__
0000000
00000

Lithium Thickener

2
Mineral
__
11.8 oz.
Aerosol Can
0° to 300°
500°
250
Red
CA
0000000
00000
2
Mineral
__
14 oz.
Grease Gun Cartridge
0° to 300°
500°
250
Red
__
0000000
0000
2
Mineral
__
1 lbs.
Can
0° to 300°
500°
250
Red
__
0000000
00000
2
Mineral
__
35 lbs.
Pail
0° to 300°
500°
250
Red
__
0000000
000000
2
Synthetic
Graphite, Moly
14 oz.
Grease Gun Cartridge
-20° to 250°
350°
Not Rated
Gray
__
0000000
0000
Package
NLGI
Viscosity
Grade
Base
Oil
Additive
Size
Type

Temp.




Range,




°F

Melting


Temp.,




°F

Weld


Load,


kgf
Color
Cannot
Be
Sold To

Pkg.




Qty.

Pkg.

DuPont Molykote

G-4700

Extreme Pressure

Synthetic—

Lithium Thickener

2
Synthetic
Moly
13.7 oz.
Grease Gun Cartridge
-40° to 350°
545°
375
Black
__
10
00000000
0000000

Mobil Mobilgrease XHP 222

Special—

Lithium Thickener

2
Mineral
Moly
13.7 oz.
Grease Gun Cartridge
Not Rated to 280°
535°
315
Gray
__
10
00000000
00000

Mobil Mobilgrease XHP

461—

Lithium Thickener

1
Mineral
__
13.7 oz.
Grease Gun Cartridge
Not Rated to 280°
535°
315
Dark Blue
__
10
0000000
00000

Mobil Mobilith SHC

220—

Lithium Thickener

2
Synthetic
__
13.4 oz.
Grease Gun Cartridge
-40° to 300°
505°
250
Red
__
10
00000000
000000

Shell Gadus S3

V220C—

Lithium Thickener

1
Mineral
__
14 oz.
Grease Gun Cartridge
0° to 280°
460°
315
Red
__
10
00000000
00000
2
Mineral
__
14 oz.
Grease Gun Cartridge
0° to 280°
460°
315
Red
__
10
00000000
00000

Aluminum Thickener

0
Mineral
__
13.4 oz.
Grease Gun Cartridge
0° to 300°
500°
400
White
__
10
00000000
000000
1
Mineral
__
13.4 oz.
Grease Gun Cartridge
0° to 300°
493°
800
White
__
10
00000000
000000
2
Mineral
Moly
14 oz.
Grease Gun Cartridge
10° to 350°
500°
620
Black
__
10
00000000
000000

Lithium Thickener

2
Mineral
__
11.8 oz.
Aerosol Can
0° to 300°
500°
250
Red
CA
12
00000000
000000
2
Mineral
__
1 lbs.
Can
0° to 300°
500°
250
Red
__
16
00000000
000000
2
Synthetic
Graphite, Moly
14 oz.
Grease Gun Cartridge
-20° to 250°
350°
Not Rated
Gray
__
10
0000000
00000