Penetrating Lubricants for Wire Rope and Cable Pulling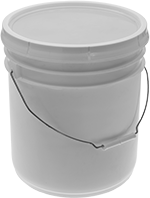 Use these lubricants to ensure smooth, consistent motion when pulling wire or cable through conduit. They provide long-lasting lubrication to support repositioning and maintenance after initial cable installation. Compatible with all cable and insulation types.
Lubricants without PTFE can be washed off with soap and water. Lubricants with PTFE provide maximum lubricity.
Size
Type
Additive

Temp.




Range,

°F

Specifications
Met
Each

Pkg.




Qty.

Pkg.

32 oz.
Squeeze Bottle
__
25° to 180°
UL Listed

0000000
00000
12
00000000
0000000
32 oz.
Squeeze Bottle
PTFE
30° to 190°
UL Listed

0000000
00000
12
00000000
000000
1 gal.
Pail
__
25° to 180°
UL Listed

0000000
00000
4
00000000
00000
1 gal.
Pail
PTFE
30° to 190°
UL Listed

0000000
00000
4
00000000
00000