Scraping and Drying Mats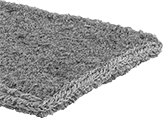 A

Beige
These mats have an abrasive scraping surface and absorb water. Place them at entry locations, so people can wipe their feet, keeping dirt and rain water from travelling inside.
Natural fiber mats are coconut husk fibers that retain a bristle-like stiffness and are uniformly cut.
For technical drawings and 3-D models, click on a part number.