Sanitary Antifatigue Mats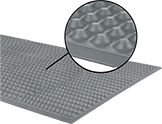 Reduce the strain and fatigue of standing while working in food-processing and pharmaceutical plants, as well as in clean rooms. These mats are USDA certified to meet sanitary design standards, and are suitable for use in clean rooms rated to both Federal Standard and ISO classes. Made of EPDM rubber, they resist abrasion and withstand washdowns with harsh sanitizers and cleaners. Use different color mats in different areas of your facility to minimize the risk of cross-contamination. Color coding is often used to help plants follow Good Manufacturing Practices (GMPs).
Also known as ergonomic mats, they have surface projections that cushion your feet and keep you from slipping while you work. The projections are spread out to let air and liquids flow through, which prevents bacteria from growing between them.
Autoclavable mats can be sterilized with steam cleaning.
Width
Length
Thickness
Mat
Hardness
Material
Edge
Profile
Number of
Tapered
Edges
For
Use
Outdoors
Autoclavable
Environmental
Rating
Choose
a
Color
Each

Projections

24"
36"

7/16

"
Soft
EPDM Rubber
Tapered
4
No
Yes
Fed. Std. Class 100, ISO Class 5
0000000
0000000
24"
48"

7/16

"
Soft
EPDM Rubber
Tapered
4
No
No
Fed. Std. Class 100, ISO Class 5
0000000
000000
24"
72"

7/16

"
Soft
EPDM Rubber
Tapered
4
No
No
Fed. Std. Class 100, ISO Class 5
Gray
0000000
000000