Disposable Aprons
Protect the front of your body from dirt, grime, and other materials. These aprons tie in the back.
Polyethylene is often used in food preparation. It holds up to occasional contact with nonhazardous liquids. Some polyethylene aprons are metal detectable—they have a metal additive that sets off metal detectors if a piece of the apron falls into your line. They're also blue, so it's easy to find and remove the piece. They help you comply with Hazard Analysis and Critical Control Point (HACCP) programs to keep contaminated food from leaving your facility.

Bib
Wd.

Lg.

Closure
Type
Performance
Properties
Specifications Met
Color
Size

Pkg.




Qty.

Pkg.

Polyethylene Plastic

28"
49"
Tie
Metal Detectable
FDA Compliant 21 CFR 177.1520, FDA Compliant 21 CFR 178.3297
Blue
One Size
100
0000000
000000
Metal-

and

X-Ray-Detectable

Shop Aprons

Bib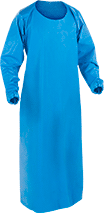 Keep workers clean and protected from spills and splashes on food processing lines while reducing the risk of contaminating the food. These aprons contain metal and chemical additives that will set off metal detectors and show up on X-ray machines if they—or any piece of them—fall into your line. They're also bright blue, making them easy to spot. Use these aprons to help you comply with Hazard Analysis and Critical Control Point (HACCP) programs for food safety.
Made of thermoplastic polyurethane (TPU), these aprons repel water, chemicals, and oil, including vegetable oil and animal fats. They also resist tears and abrasion, and will remain flexible in low temperatures. They can be machine washed and reused multiple times.
Sleeved aprons provide better coverage than bib aprons, so they're often used in applications with higher risk of splashes.