About Carbon
Steel,

Alloy

Steel,

Spring

Steel,

and Cast Iron
Lubricated 1065 Spring Steel Wire Assortments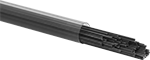 Tensile

Strength:

243,

000 psi
Specifications

Met:

ASTM A229

Heat

Treatment:

Hardened
Always have the right size wire on hand with a 72-piece assortment. This wire is coated with oil for corrosion resistance and lubricity. Use it for bundling and as tag wire. It will spring back after bending.
For technical drawings and 3-D models, click on a part number.
Heat
Treatment
Finish
Color
Includes
Each

Matte

Hardened
Black
12 each of 0.072", 0.080", 0.091" and 0.105" wire
18 each of 0.062" diameter wire
6 each of 0.120" wire
0000000
000000
Bend-and-Stay

Multipurpose 304 Stainless Steel Wire
Bend this wire and it will stay put. Frequently used as tying wire and locking wire, 304 stainless steel is a good all-around choice for a wide range of applications.
Wire assortment comes with 1/4-lb. coil each of the following wire diameters: 0.020", 0.025", 0.032", 0.041", and 0.051". A tie-twisting tool is included.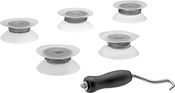 Heat

Treatment:

Annealed

(Softened)

Heat

Treatable:

No
Tensile

Strength:

75,

000 psi
Includes
Fabrication

Max.




Temperature,




°F

Each

Matte

Comes with

1/4

-lb. coil each of wire diameters: 0.020", 0.025", 0.032", 0.041", and 0.051". A tie-twisting tool is included.
Cold Drawn
550°
0000000
000000