Glass Cleaners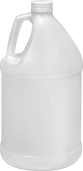 Remove dirt, grease, and smoke film from glass while leaving behind a streak-free shine.
Unscented liquid-concentrate cleaners make five gallons of cleaning solution for every 32 fl. oz. of cleaner. Scented liquid-concentrate cleaners make one gallon of cleaning solution for every ounce of cleaner.
Cleaners that meet EPA Safer Choice standards help you meet LEED Green Building requirements for using environmentally safe products in your facility. USDA biobased cleaners are made with plant-based and pH-balanced ingredients.
Cleaners that come in aerosol cans cannot be sold to Canada due to chemical regulations.
Type
Size
Net
Weight

Lg.

Wd.

Wipes
per
Container
Composition
Harshness
For
Use
On
For
Removing
Scent
Cannot
Be
Sold To
Each

Pkg.




Qty.

Pkg.

Glass Cleaners

Foam

Aerosol Can
__
19 oz.
__
__
__
Water Based
Mild
Glass
Dirt, Dust, Grease/Oil, Soap Scum
__
Canada
0000000
00000
12
00000000
000000

Liquid

Spray Bottle
32 fl. oz.
__
__
__
__
Water Based
Moderate
Glass
Dirt, Dust, Grease/Oil, Soap Scum
__
__
0000000
0000
12
00000000
00000
Jug
1 gal.
__
__
__
__
Water Based
Moderate
Glass
Dirt, Dust, Grease/Oil, Soap Scum
__
__
0000000
00000
4
00000000
00000

Liquid Concentrate

Bottle
32 fl. oz.
__
__
__
__
Water Based
Harsh
Glass
Dirt, Dust, Grease/Oil, Soap Scum
__
__
0000000
0000
__
000000
00
Jug
1 gal.
__
__
__
__
Water Based
Harsh
Glass
Dirt, Dust, Grease/Oil, Soap Scum
__
__
0000000
00000
4
00000000
00000

Wipe

Canister
__
__
12"
7"
28
Water Based
Mild
Glass
Dirt, Dust, Grease/Oil, Soap Scum
__
__
00000000
0000
6
00000000
00000

Glass Cleaners — EPA Safer Choice

Standard,

USDA Biobased

Liquid

Spray Bottle
32 fl. oz.
__
__
__
__
Water Based
Harsh
Glass
Dirt, Dust, Grease/Oil, Soap Scum
__
__
0000000
0000
6
0000000
00000
Spray Bottle
32 fl. oz.
__
__
__
__
Water Based
Harsh
Glass
Dirt, Dust, Grease/Oil, Soap Scum
Orange
__
0000000
0000
6
0000000
00000
Jug
1 gal.
__
__
__
__
Water Based
Harsh
Glass
Dirt, Dust, Grease/Oil, Soap Scum
__
__
0000000
00000
4
0000000
00000
Jug
1 gal.
__
__
__
__
Water Based
Harsh
Glass
Dirt, Dust, Grease/Oil, Soap Scum
Orange
__
0000000
00000
4
0000000
00000

Liquid Concentrate

Jug
1 gal.
__
__
__
__
Water Based
Harsh
Glass
Dirt, Dust, Grease/Oil, Soap Scum
__
__
0000000
00000
__
000000
00
Jug
1 gal.
__
__
__
__
Water Based
Harsh
Glass
Dirt, Dust, Grease/Oil, Soap Scum
Orange
__
0000000
00000
__
000000
00