About Selecting a Vibrator
Air-Powered

Vibrators for Wet Materials

1

2

3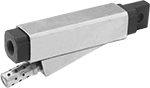 4

5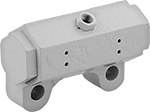 6
7
Also known as piston vibrators, these pound the sides of your bin to dislodge wet, sticky, and caked-on materials. Bin wall thickness determines the force required to move the material in the bin. To select a vibrator strong enough for your application, find your bin's wall thickness in the table.
Vibrators with standard pistons make direct contact with your container wall for maximum impact.
Vibrators with cushion-impact pistons have an air cushion that prevents metal-to-metal contact.
For technical drawings and 3-D models, click on a part number.