About Selecting a Vibrator
Heavy Duty
Air-Powered

Vibrators for Wet Materials with Setup Kit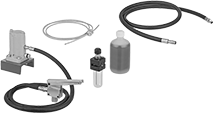 These vibrators come with everything you need to get started. Use them to dislodge extremely thick, sticky materials from the sides of your bin. Vibrators have a sturdy base for secure mounting and even force distribution. Bin wall thickness determines the force required to move the material in the bin. To select a vibrator strong enough for your application, find your bin's wall thickness in the table.
Kits include a U-channel bracket, a manual air valve, an automatic filter/regulator/lubricator, and two hoses with fittings. Some come with an extra replacement hose.
Vibrators with standard pistons make direct contact with your container wall for maximum impact.
Vibrators with cushion-impact pistons have an air cushion that prevents metal-to-metal contact.
For
Wall


Thick.

Force
@ 80


psi,

lbs.

Vibrations
per Minute
@ 80 psi
Pipe
Size

Thread
Type
Gender
Pipe
Size

Thread
Type
Gender
Air
Consumption
@ 80

psi,

cfm
Volume
@ 80


psi,

dB

No.


of

Dia.

Ctr.-to-Ctr.

Wd.

Ht.

Dp.

Each

Standard Piston

1/8

"
326
5,900

1/4

NPT
Female

1/4

NPT
Female
7.0
95
4

3/8

"
2"
3"
4

11/16

"
3"
0000000
0000000

3/16

"
601
4,600

1/4

NPT
Female

3/8

NPT
Female
12.0
99
4

5/8

"
3"
4

3/8

"
6

3/8

"
4

3/8

"
0000000
000000

1/4

"
610
3,300

1/4

NPT
Female

3/8

NPT
Female
15.0
99
4

5/8

"
3"
4

3/8

"
6

3/4

"
4

3/8

"
0000000
000000

3/8

"
1,917
3,000

3/8

NPT
Female

1/2

NPT
Female
21.0
102
4

3/4

"
4

1/8

"
5

3/4

"
8

7/16

"
5

3/4

"
0000000
00000000

3/8

"
2,422
2,600

1/2

NPT
Female

1/2

NPT
Female
33.0
104
4

3/4

"
4

1/8

"
5

3/4

"
9

13/16

"
5

3/4

"
0000000
00000000

1/8

"
260
5,300

1/4

NPT
Female

1/4

NPT
Female
7.0
86
4

3/8

"
2"
3"
4

11/16

"
3"
0000000
000000

1/8

"
480
4,100

1/4

NPT
Female

3/8

NPT
Female
12.0
90
4

5/8

"
3"
4

3/8

"
6

3/8

"
4

3/8

"
0000000
000000

3/16

"
490
2,900

1/4

NPT
Female

3/8

NPT
Female
16.0
90
4

5/8

"
3"
4

3/8

"
6

3/4

"
4

3/8

"
000000
000000

1/4

"
939
2,100

3/8

NPT
Female

1/2

NPT
Female
21.0
92
4

3/4

"
4

1/8

"
5

3/4

"
8

7/16

"
5

3/4

"
0000000
00000000

3/8

"
1,350
1,810

1/2

NPT
Female

1/2

NPT
Female
32.0
94
4

3/4

"
4

1/8

"
5

3/4

"
9

13/16

"
5

3/4

"
000000
00000000