Pipe-Mount

Air-Powered

Mixers for Small Batches

Mixer with One Propeller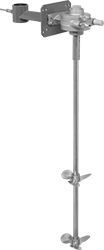 Mixer with Two Propellers
The pipe-clamp connection allows you to quickly raise or lower these mixers to change containers. Also known as direct-drive mixers, they operate at high speeds for rapid turnover. Use them to mix liquids with a viscosity similar to water and light oils. A needle valve allows you to adjust the mixing speed. Propellers are left hand and move clockwise when viewed from above to direct flow downward for efficient mixing.
Mixer with one propeller comes with four shafts of multiple lengths.
Mixer with two propellers is used for faster and more thorough mixing than mixers with one propeller.
hp
Mixer


Speed,


rpm
For
Pipe
OD

No.


of

Dia.

Material

Lg.

Dia.

Cap.,




gal.

Pipe
Size

Thread
Type
Gender
Air
Consumption

O'all




Ht.

Wt.,




lbs.

Each

For Thin Liquids

1/2

300-1,750
1

1/2

"
1
4"
316 Stainless Steel
12"
16"
20"
24"

5/8

"
100

1/4

NPT

Female
25 cfm @ 80 psi
17

13/16

"
21

13/16

"
25

13/16

"
29

13/16

"
12
0000000
000000000

1/2

300-1,750
1

1/2

"
2
4"
316 Stainless Steel
32"

5/8

"
100

1/4

NPT

Female
25 cfm @ 80 psi
37

13/16

"
17
0000000
00000000